Founded in 2013 by fashion designer Lorna Abwonji, it is based in Nairobi Kenya.
Mia Mara means "give me mine" and seeks to encourage its clientele to have their own unique style and bring out their personalities.

We are a Made to order brand with collections that are made from locally available fabrics and have an 80% zero waste production policy.
We believe that clothes should fit people of any shape and size hence our designs have size inclusivity in mind and suitable for various seasons of life.
Our clothes are comfortable, versatile, sustainable and affordable
Most of our clothes are free fitting dresses, cover-ups, tops and skirts that can be worn and styled in various ways and also come in bold colors and prints.
We've also added CORSETS to our collection under the CINCHED BY MIA MARA tag. 
What inspired this brand is the founder Lorna Abwonji's own personal struggle getting clothes that fit her and that still expressed her creativity.
Tag line: Create Your Own Style
Mission: Helping clients create their own personal styles
Vision: Making Mia Mara Creations accessible to the global marke
I understand the complexities African women have getting clothes made that fit them well, having been that awkwardly tall girl in the group and not to mention fluctuating weight.
Getting clothes that fit me has always been an issue, so occassionally my mother would have clothes tailored for me.
When I finally settled after highschool and studied fashion I was surprised by the compliments I got on my clothes and that others also wanted clothes made and thats how I began my journey in the fashion industry as a designer
I have been in the Kenyan fashion industry since 2008 and I have a vast experience in various aspects of the industry. I have been shortlisted in various prestigious awards such as RAFDA [Redds Africa Fashion Design Awards] in 2008 and FA254 Africa Designers for Tomorrow in 2014. etc
I have also been active in the local fashion industry by participating in various shows such as Samantha's Bridal Fair as well as the Casino Malindi Fashion show, FAFA / Maybelline Launch, Kenya Fashion Awards among others. 
In 2016 I becoame a Mandela Washington Fellow for Young African Leaders by former US President Barack Obama because of my work in th industry with my DRESS UP KENYA project
I also have various platforms where I collaborate with upcoming designers like the KENYA FASHION FOCUS GROUP [that has 7000+ members] on facebook, various whatsapp groups as well as give alot of fashion business information on my Youtube channel LORNA THE SEWIST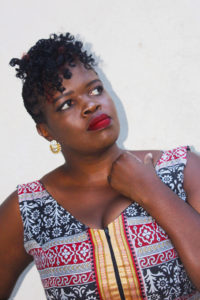 Lorna Abwonji
Founder & Creator