Founded in 2013 by fashion designer Lorna Abwonji, it is based in Nairobi Kenya.
Mia Mara means "give me mine" and seeks to encourage its clientele to have their own unique style and bring out their personalities.

We are a Made to order brand with designs from our ready to wear collections that are made from locally available fabrics and have a zero waste production policy.
We believe that clothes should fit people of any shape and size hence our designs have size inclusivity in mind and suitable for various seasons of life.
Our clothes are comfortable, versatile, sustainable and affordable
Tag line: Create Your Own Style
Mission: Helping clients create their own personal styles
Vision: Making Mia Mara Creations accessible to the global market
 Lorna Abwonji is a 2016 Mandela Washington Fellow in the Young African Leaders Initiative [YALI] program started by President Obama.
Having been in the Kenyan fashion industry since 2008 Lorna has a vast experience in various aspects if the fashion industry having been shortlisted in prestigious awards such as RAFDA [Redds Africa Fashion Design Awards] in 2008 and FA254 Africa Designers for Tomorrow in 2014.
Lorna has also been active in the local fashion industry by participating in various shows such as Samantha's Bridal Fair as well as the Casino Malindi Fashion show, FAFA / Maybelline Launch among others.
Lorna also initiated Dress Up Kenya in 2010 as a platform for giving opportunities to upcoming fashion designers in the form of information, events amongst other activities.
Lorna is also very passionate about young people and mentorship and always willing to work with them and help them reach their full potential.
Lorna currently runs her fashion brands Mia Mara Creations and Cinched by Mia Mara based in Nairobi Kenya.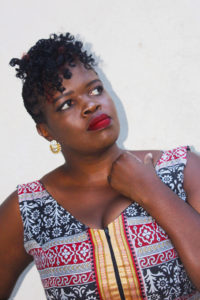 Lorna Abwonji
Founder & Creator